Tapestry techniques
The techniques for high- and low-warp work (haute-lisse and basse-lisse) differ; both were used in the 14th cent. In a high-warp loom the threads are stretched vertically in front of the weaver, and the lisses or loops which raise the alternate threads to make the shed are lifted by hand.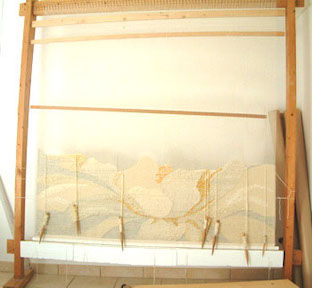 In low-warp work, the warp threads are horizontal, and the lisses are moved by means of a foot treadle. The strong warp threads of wool or linen may vary from 10 to 30 in an inch (3 to 12 per cm), but are ordinarily fewer than 20 (8 per cm). The soft, full weft threads of wool, silk, or metal entirely cover the warp, which remains apparent in the form of ribs.
In true tapestry, the front and back surfaces are alike, except that portions of the design of the same color are connected by a loose thread that is left hanging at the back. The different colors of the design, being worked in separately in blocks or patches, leave little slits between, which are afterward sewn up.
A cartoon or painting on linen or paper, sometimes by a noted artist, is provided for the weaver to copy. Licier Créateurs are artists who create the cartoon and perform the weaving.